residencies

+ Abbaye de Bon Repos,
en partenariat avec le cinéma Quai des Images et le Moulin à sons au collège Saint-Joseph, Loudéac, 2015 > 2016

inauguration de la résidence le 5 octobre 2015 au cinéma Quai des Images, Loudéac

+ Domaine départemental de Chamarande, centre d'art contemporain au collège des pyramides, Evry, 2011 > 2013
/ residency proposed by the domaine de chamarande, contemporary art center / college of pyramids, Evry, 2011> 2013

+ projet en PDF à consulter : Orchestre(s), un court métrage aux Pyramides

+ instru rap composée par Nidraj pour Orchestre(s) : écouter ici

The project of the residency for the Pyramids consists in a film whose theme is music, in close collaboration with the Pyramids area and Conservatory of Evry.
This project both collective and humanist come from a musical score "rap", which is reinterpreted in jazz and classical music by students of the Conservatory of Evry, in music world by Horold and Ask'Em, singing lyrics by a singer of the Conservatory accompanied by residents of the retirement home "les Tisserins", etc.


France Culture
invitée de l'émission "Villes-Mondes" sur la ville d'Evry du 15 avril 2012

Le principe de cette émission est d'offrir aux auditeurs le portrait d'un territoire vu par ses écrivains, artistes et créateurs.
Autres invités plateau: Emmanuelle Crivellé, chorégraphe et Atisso Medessou, cinéaste
En reportage: Les Yamakazi, Le collectif de vidéastes BKE et Dominique Beraud, chorégraphe.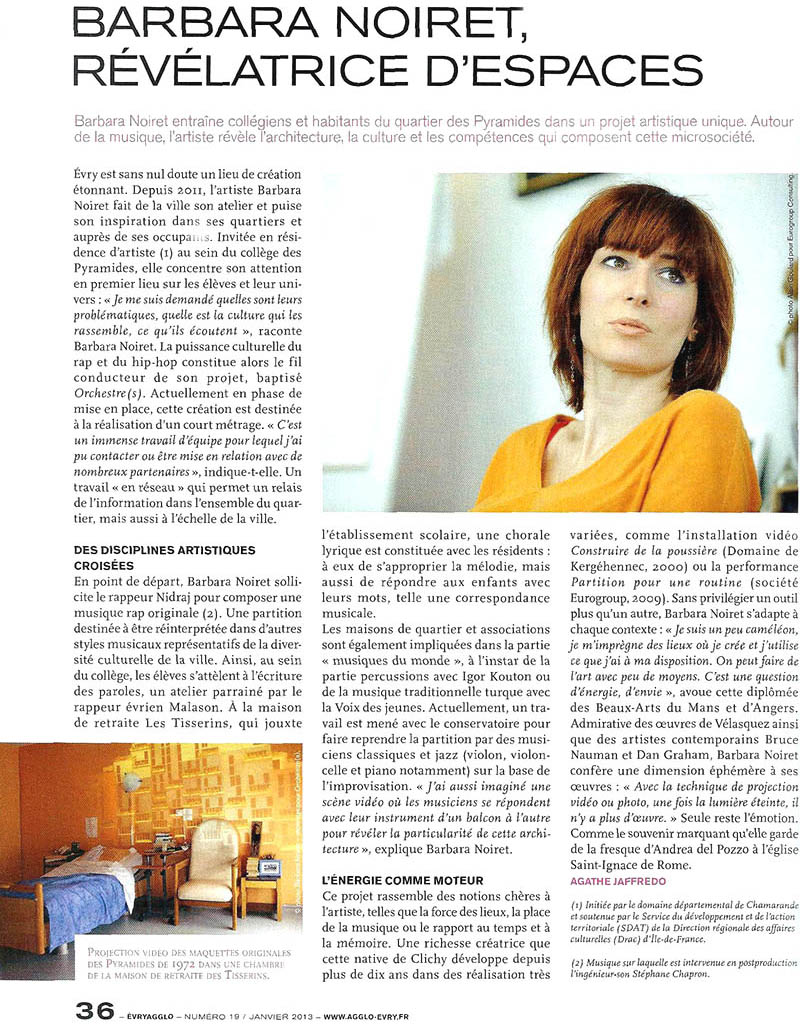 + Artistes en terres inconnues, Ladahk, Inde, 2012
Session I - LADAKH (nord de l'Inde)
région himalayenne - LEH / KORZOK / THIKSEY - Inde, août 2012
curator : Isabelle Arias / Artway concept
Programme de résidences artistiques et d'ateliers pédagogiques.
Barbara NOIRET - art contemporain / Djamel BRIDE - parkour

/ residency in Ladahk, in north of India, august 2012
curator : Isabelle Arias / Artway concept

projet à découvrir : https://www.facebook.com/ArtistesEnTerresInconnues

réalisation d'une nouvelle vidéo en cours / new video soon

vidéo des ateliers pédagogiques : cliquer ici / pedagogic programm : click there
+ ce qui vient, les ateliers de rennes, biennale d'art contemporain, décembre 2009 > mai 2010
commissaire : Raphaële Jeune / art to be
/ what comes, second edition of les ateliers de rennes, biennale d'art contemporain, france
december 2009 > may 2010
curator : Raphaële Jeune / art to be
+ résidence d'artiste eurogroup consulting, avril > octobre 2009
/ eurogroup consulting's artist in residency program, france, april > october 2009 (links)

+ institut marcel rivière, centre psychiatrique de la verrière, 2004 > 2006
/ Institut marcel rivière, psychiatric hospital, la verrière, france , 2004 > 2006
| | | |
| --- | --- | --- |
| | | |
| | | |
| | | |
| | | |
| | | |
+ domaine départemental de chamarande, 2005
/ domaine de chamarande, contemporary art center, france,
2005